---


United nude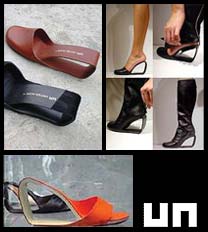 For an amazing shoe that is also a stunning work of art, you must see the United Nude footwear line. They take innovative styling and mix it with uncompromised comfort to form some of the most unique shoes available today. You will not believe your eye when witnessing some of the United Nude footwear designs.

The amazing United Nude Eames pump features a unique semi-hi metal heel

United nude is a design company co-founded by a Dutch architect and an English shoemaker. Disillusioned with fashion, not wanting to be yet another shoe brand or an architecture firm, United nude is set on releasing specific, iconic products. Each product is accompanied by its own storybook to give you further insights into the origins of the product concept. From the sharing of emotions, reflected in the uniqueness of its products, United nude exists.