Taryn Rose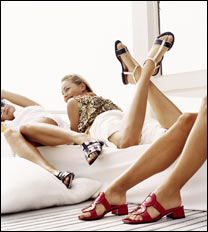 Footwear has never been so luxurious and comfortable as with Taryn Rose. These shoes are made to make you feel beautiful and fashionably while giving off your sophisticated side. Being designed by a former orthopedic surgeon, it is no wonder why these shoes are so popular with those seeking comfort.

Having such fashionable footwear has never felt so good. Taryn Rose has all of the styles you are looking for from boots, heels, sandals, slides and clogs for women. Taryn Rose also has a great line of footwear for men which include loafers and dress shoes as well as boots.

Taryn Rose changed the footwear industry in 1998 by creating a line of luxury shoes that are as comfortable as they are beautiful. Her idea of being well-dressed with a sense of well-being touched a nerve with fashionable women from coast-to-coast, creating a dedicated following for her footwear collection. Formally trained as an orthopedic surgeon, Rose saw patients with many serious foot problems that were caused by fashion footwear, high heels and pointed toes. Being a lover of beautiful footwear, her own feet ached after 14-hour days in shoes with three-inch heels. In the fashion world where beauty and pain go hand-in-hand, Taryn Rose offers women the opportunity to wear exquisite footwear which is also good for their feet.