Skechers Kids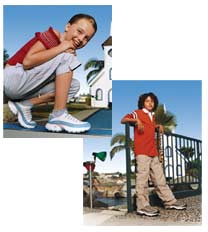 Skechers: edgy and comfortable shoes for active lifestyles, whether you're hanging out, cruising around, pounding the pavement, or hitting the trail.

SKECHERS USA, Inc., an award-winning global leader in the lifestyle footwear industry, designs, develops and markets lifestyle footwear that appeals to trend-savvy men, women and children. Since its inception in 1992, SKECHERS' diverse product offering has grown from utility-styled work boots to include sport, casual, dress and dress casual footwear.

The name "Skechers" was termed from one of the owners kids, a term used for people in the southern cal area.

The brand is built around passion for product. Skechers is constantly listening to and watching its target consumers to fill any void they might have. From comfort to styling, Skechers prides itself on setting trends and speaking to its customers in a dynamic way.

Skechers prides itself on having rigorous standards of quality, fit, and comfort to ensure a great purchasing experience.