Shoe Be Doo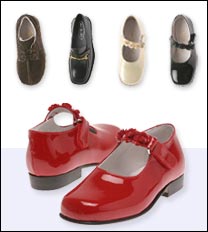 Shoe Be Doo is the coolest, fashionable footwear line for young boys and girls. Most moms know that it can be difficult to find a decent pair of stylish shoes for their children that are also high in quality without the giant price tag. This is where Shoe Be Doo comes to the rescue.

With styles for either your little boy or little girl, Shoe Be Doo offers quality footwear made to help with the natural growth process of little feet. It is amazing how many colors are available! Buying shoes by Shoe Be Doo is sure to be a happy one for both parent and child.

Shoe Be Doo and Shoe Be Baby is the inspiration of a mother who, frustrated by the lack of quality, fashionable footwear for her children decided to "DOO" something about it. She went to Italy, enlisted the best children's shoe makers she could find and since 1982 has brought "state of the art" children's footwear to America. Since, then we have devoted ourselves to developing fashionable footwear crafted to fit the contours of American children's feet. Soft leather uppers and linings are used, which is especially important in allowing formative feet to breathe. Our flexible soles offer comfort and promote natural development of growing feet. Our European/American design team blends ideas, balancing a sense of sophistication and fun, with a unique look. All Shoe Be Doo shoes are unique because they are now and have always been handcrafted in Italy.