Rachel Kids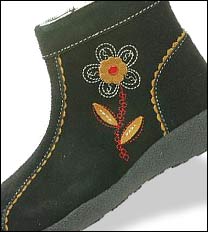 If you have been searching for a quality pair of shoes for your little girl, try a pair of Rachel Kids. These shoes are wonderful for dress up, school or playtime, and they are beautiful. Rachel Kids have many different styles for your little girl to choose from including Mary Janes, sneaker, and even boots.

For a sweet pair of patent leather shoes, the Rachel Kids Lil Alexis are beautiful and very comfortable. The Rachel Kids Austria is a fabulous boot for your princess. They are lightweight and flexible with a stunning flower stitching detail. Rachel Kids are quality shoes that are well worth the price.

Valencia Imports are makers of fine quality children's shoes under various registered trademark names such as RACHEL SHOES, SCOTT DAVID, OOMPA LOOMPAS and its new label PASITOS.

A European concept with our top designers in Europe have worked diligently to bring you the best quality, value and styling in childrens shoes.