---

Nurse Mates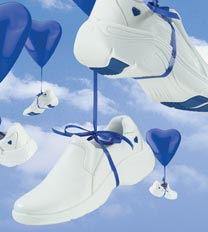 For over 40 years Nurse Mates have been creating shoes for the compassionate individual who spends countless hours on their feet. Having a 95% brand recognition among nurses, it is no wonder it is the world's best-known manufacturer of nurse foot and leg wear. Nurse Mates has always been at the forefront of offering nurses functional yet fashionable footwear. Taking care of the nurse's footwear needs has always been Nurse Mates primary focus. Offering lightweight shoes with breathable leather uppers, shock absorbing insoles, cushioned linings, and a slip resistant rubber insert on bottoms are all Nurse Mates standards.

Nurse Mates creates functional shoes with a sense of style. Offering five different styles of shoes, all with the same fine quality, comfort and fashion. When you purchase a pair of Nurse Mates you are continuing on the same tradition as nurses have been doing since 1961. For nurses shoes there really is not another choice for quality, comfort, style and safety there is only Nurse Mate.

Welcome to the world of choice. Nurse Mates footwear provides so many different styles of professional nursing shoes, you might find it difficult to choose only one. Here, you're sure to find a design that's perfect for your personality. All Nurse Mate shoes exceed ASTM slip-resistant qualifications, all while providing unmatched durable comfort. Dedicated to each new generation of medical professionals, Nurse Mates has been setting the bar in nursing safety standards since 1961.