---

Montrail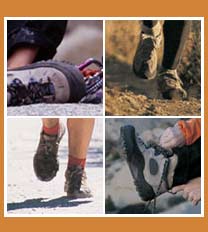 Montrail is one of the premier manufactures of trail running, multi-sport, hiking, and mountaineering boots and shoes. Montrail is committed to making the finest athletic shoe available. Perhaps that is one-reason these shoes are a top seller among other athletic shoe companies. There commitment to the outdoor athlete shows in their Splitter Camps, held several times a year. Helping individuals improve their technique and giving them a better appreciation for crack climbing. Montrail emphasizes the fit, a most important part of making sure the wearer has all the benefits the shoes can offer. Ill-fitting shoes will not do either the wearer not Montrail any good. Therefore, Montrail spends a lot of time educating the individual on the proper method of putting on and wearing the shoe. Montrail's obsession with fit assures you the very best fitting shoe you can buy!

Montrail has the right shoe for the sport, this is not a one size fits all sports operation. You need the correct shoe for the intended sport, demonstrating their keen interest in the activity. From trail running to rock climbing Montrail has the right shoe for you.

The first line of Montrail's company mission statement is: "Create and deliver the best fitting, high-performance, and high quality footwear for outdoor and endurance enthusiasts." That line speaks not only to the results of their labors, but also hints at what motivates and inspires them. Montrail is a collection of outdoor and endurance enthusiasts and they like nothing better than to create gear that improves the ability to reach incredible places, both spiritually and physically. They compete alongside members of Montrail's elite ultrarunning team, put up new routes in Patagonia and Alaska, and quietly hike the wild lands near their home. In pursuing their passions, they experience all virtues and shortcomings of their products in a raw and immediate way. It sparks the new innovations and stokes their desire for another adventure. And it keeps Montrail focused on their mission.