Mezlan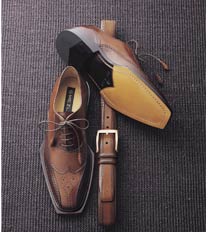 Mezlan shoes are classic looking shoes with a luxurious twist. Made from the finest materials like genuine exotic skins and fabulous leathers. Lets not forget the beautiful stitching and details. You can tell just by looking at these shoes that there was a great deal of care taken to make them. If you want to stay on top of fashion, then you need to enhance your look with Mezlan shoes because they are a great addition to any wardrobe!

Made with a generous amount of eloquence, you are sure to look sharp and chiseled . You'll definitely turn heads while wearing Mezlan shoes. These are the kind of shoes people are always looking for. The kind that are not only gorgeous to look at, but that are crafted well enough to last for a long time and still be in style after having them years later. Overall these shoes are very stylish, but not stuffy, classy, but not showy and they make a serious impact on the way you're presenting yourself whether it's at the office or out and about. Buying one pair will make even your closest friends jealous. Buy two. They'll hate you even more, and that's a good thing.

Mezlan's unique and luxurious styling has set a new standard in innovation and confidence in the footwear world. Supple leathers from Italy, genuine exotic skins, and a specially engineered cushioned insole, with an antibacterial charcoal layer, gives Mezlan footwear the most comfort possible for a dress line. Each pair is handcrafted with an age old Artisan quality which has yet to be paralleled.

Mezlan has an extensive heritage of producing handcrafted, uniquely patterned, quality footwear and accessories for over three generations and 40 years.

While the craft of footwear making becomes more technical, it is still considered an article of prestige. Therefore, Mezlan product values have remained consistent with time.

Our artisans have maintained a strong commitment to detail, construction and unparalleled value within our industry. The Mezlan collection has become one of the most respected better grade footwear lines in the Western Hemisphere.

Mezlan has positioned itself as a sophisticated brand, producing Menís footwear as well as accessories, and hosiery.