Max Safety Footwear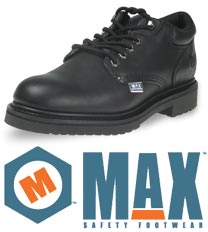 Industrial and construction footwear doesnít have to look like itís for work. Max Safety Footwear has managed to bring you the latest safety innovations along with make some of the best looking and stylish work boots you will find.

Sturdy design, high quality materials and superior craftsmanship make Max Safety Footwear the best choice you can make for your feet if you are going to be in unsafe conditions. Protect your feet in safety and style with Max Safety Footwear.

Quality in every stitch, comfort in every step. >From this simple attitude MAX SAFETY FOOTWEAR was born. MAX offers the newest innovations with tried & true constructions used in building the most durable work boots for all our needs.