M.O.D.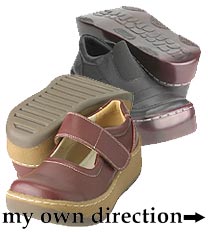 M.O.D. put the "MOD" in modern. Their designs are unique and one of a kind and yet are completely instep with the current styles. Their stylish comfort is unmatched with everything in their line up from strappy sandles to flirty flats to the proverbial high heeled sneaker.

And on top of being snazzy and stylish, these shoes are the utmost in comfort! Not only will your feet look good, they'll feel fantastic in an M.O.D shoe design. With over 200 designs to choose from, you can go hippy chic in a pair of wild clogs or play it cool in a pair of Ryanne Flats that will take you from the office to the get together at the local watering hole after work.

Unique, MODern designs have never felt so good! For stylish comfort shoes you can wear virtually anytime and anywhere, look no farther than the M.O.D collection. From their unique soles to their fashionable upper designs, M.O.D. shoes provide the best looking comfort you'll find anywhere.