Lakai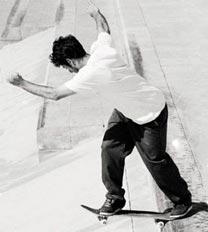 Lakai is one of the most popular footwear designers for skateboarding champs. Several skating stars wear the Lakai brand in competitions because they say they are the best. They offer flat, wide soles for the most traction possible. This is necessary when performing tricks on a skateboard. The Lakai shoes also have great designs and colors that catch they eyes of any onlooker. The most important technical aspect of skateboarding is the feet. If you want people looking at your feet, they better be wearing something attractive to look at. Lakai footwear realizes this and makes their colors bold and their designs attractive.

The Lakai Company constantly strives to improve upon their designs. Each year they come out with new and improved skate shoe styles. This year they are coming out with fifteen new styles in October and 12 new styles in November. Lakai realizes the skateboarding sport is competitive, so the skateboarding footwear arena must be as well. Famous skaters such as Brandon Biebel, Rick Howard, and Cairo Foster sport Lakai footwear because they believe they are the best quality skate shoes for the money. The professionals depend on Lakai footwear to provide quality and style for their feet.

Lakai features signature footwear represented by riders such as Anthony Pappalardo, Brandon Biebel, Danny Garcia, Marc Johnson, Rick Howard, Scott Johnston, Jeff Lenoce, Cairo Foster, Mike Carrol and Rob Welsh. With innovative design and construction, Lakai is on top of their game in skate footwear.