---

Keds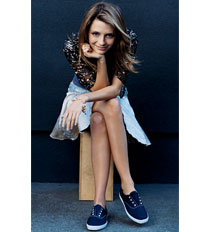 Keds were first introduced in America in 1916 by the U. S. Rubber Company. Prior to their creation and introduction there was nothing available anywhere in the world like a Ked shoe. In fact, it was the advertising people at Keds who coined the phrase sneakers because the soft, pliant rubber soled shoes were so quiet that a wearer could "sneak" up on anybody they wanted to. Hence, the name "sneakers" which quickly became synonymous with the brand name of Keds in a manner similar to the way a photo copy of a printed document became a Xerox copy. It didn't take long before Keds became the footwear of choice for almost all athletes in almost all sports.

Boxers used Keds exclusively as did basketball players, tennis players and Olympic athletes the world over. Competing brands of athletic footwear had to "measure up" literally to the standards of Keds footwear as the Keds brand set the standards for weight, height and style allowed in professional sports. Adopting a casual style, soft colors and lasting durability, the Keds brand name has lasted and expanded through the years to take into account more women's styles and footwear for the developing athlete in the family. You'll find no footwear line that's more traditional, more respected and more imitated than Keds.

Since 1916, the Keds brand has been a premier national athletic and lifestyle footwear brand worn by Olympic soccer players, scores of national and international tennis champions, and leading style icons. Today, Keds continues to bring authentic classic style with innovative advancements in performance and materials to meet the needs of athletic and lifestyle leaders of the 21st century. Our goal is to inspire you to be authentic, active, fun, and confident, in life and in style.