---

Jumping Jacks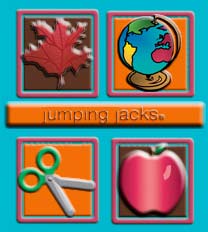 Jumping Jacks have been known to parents around the world for more than 60 years as a line of footwear for children that focuses more on the proper development of tiny, growing feet than it does on cutesy styling and trendy fashion. Parents can rest easy knowing that their children are wearing shoes from their very first steps on into young adulthood that are designed with the best leathers available, packaged into the most comfortable designs and utilizing the most up to date science about children and how they change as they grow. Jumping Jacks are not merely coverings for feet, although they do that quite well, they actually complement and enhance the growing process utilizing only the softest leathers to allow feet to breath as they grow.

Jumping Jacks have recognized that children's feet need to be covered with not only attractive, stylish, and comfortable shoes, but shoes that are designed to help them grow and change shape properly as they age. Yes, Jumping Jacks maintains a high level of style, complementing little girls shoes with buttons and bows, sparkles and straps that make them attractive to the eyes as well. But more importantly, there's an equal amount of science behind a pair of Jumping Jack shoes to complement the art. With Jumping Jacks you're getting a lot more than you see, a lot more than you pay for and a lot more than you ever dreamed possible for the style and health of your children's feet.

For more than 60 years, Jumping Jacks has been committed to making quality children's shoes based on the premise that all kids do not have a medium width foot and that like their parents, they want and need comfortable footwear. Jumping Jacks believes in offering customers quality features that separate them from the competition. They believe in making children's shoes out of soft leathers because leather allows the foot to breathe naturally which results in better foot health. Two thirds of adults in America suffer from some sort of foot ailment. This is due largely from improperly fitting shoes. Jumping Jacks cushioned leather foot beds with leather linings are flexible and they use size graded outsoles for better fit. Their shoes are lightweight and they love using Hook & Loop closures for ease of fit. Jumping Jacks believes children's shoes should be for children and not adult take downs. Jumping Jacks is concerned about your child's feet; from baby on up. Whether you are looking for your baby's first shoe or a comfortable fitting shoe for your child now, they believe their product will suit your child's growing foot needs.



View All of Jumping Jacks Here